Commercial
Looking for a Commercial Landscaping Company Near Dublin, OH?
The Perfect Landscaping Plan for Your Business
Local homeowners aren't the only ones who want lovely curb appeal. With the right landscape, businesses can attract more customers and elevate the impression of professionalism with a comprehensive package from Blue Ring Residential Services. For commercial companies across Columbus, Dublin, Gahanna, Lewis Center, New Albany, Powell, Westerville, Worthington, and beyond, Blue Ring offers the perfect solution.
Your fully scalable and customized commercial service package can include everything from regular mowing and mulching to tree trimming, shrubbery maintenance, and planting annual or perennial flowers. The devoted team at Blue Ring Residential Services is also able to help with sprinkler installation, irrigation systems, and various landscape restoration and handyman repair services that may be needed throughout your property.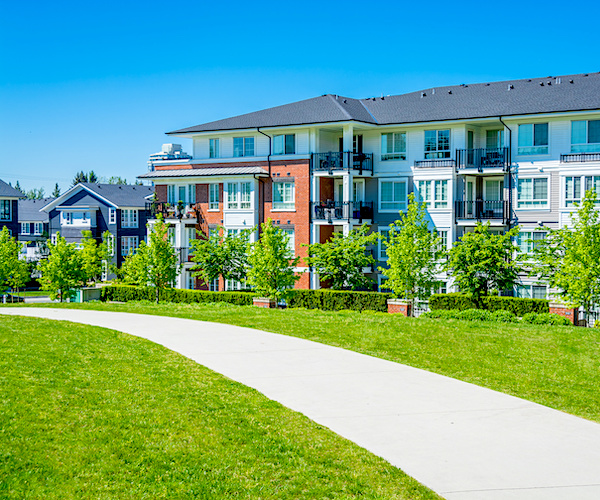 Multifamily Communities & Apartment Complexes
With Blue Ring Residential Services, your customers will appreciate a well-maintained landscape as they enter your business or enjoy your courtyard. Blue Ring Residential Services also works with homeowners associations and apartment complex property managers for all the maintenance requirements of community spaces. Our team is available to take care of parks, front entryway landscape features, hardscaping sections such as patios and decks, and more.
We can even help perform onetime cleanups after a storm, quickly removing debris and repairing any damage to your property's landscape. Contact the professionals at Blue Ring Residential Services today and experience community care and commercial landscaping at its finest!